If you are a beginner in sewing, you have to be extra careful when you are buying your sewing machine. There are many models of sewing machines in the modern market like Juki f600 with wide range of features. As a beginner, you have to ensure that you get a machine that will help you get into this field in a more efficient and effective manner.
Some models are for those with ample experience in sewing. If you buy such machines, you will get a lot of problems because they might also be hard to operate. To help you in the selection, here are some of the things to consider when choosing the best sewing machines for beginners.
What to consider in beginner sewing machine
Consider the features available
As a beginner, you might not need a sewing machine that has a lot of complex features that might end up confusing you. You need to look for the one with simple features you can use comfortably without a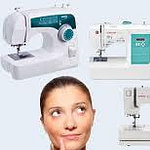 lot of problems. As you consider the features, it is also important to ensure that you get the one with features that you need.
Some of the most important features that you must include light, high speed, tension control, built-in stitches, auto needle threading, buttonhole styles, feed dog control and others according to your sewing needs.
Performance
Just like other types of machines, there are sewing machines that are more efficient than others. As a beginner, you need to go for the most efficient one regarding performance. It is good to consider the workmanship and stability of the sewing machine when you use it at high speed.
You should also consider how well the stitches remain great throughout the sewing project. The machine should also be able to operate at a high speed at all times.
Ease of use
As a beginner, this is the most important factor you must consider. You should look for a machine that is easy to operate even without a lot of guidance.
Choose a sewing machine that is appropriate for your skill level in sewing. The more features a machine has, the more complex it might be for you to use. The machine should only have the most frequently used features.
Versatility
The sewing machine you purchase should have high-level versatility. You should be able to use it to perform different sewing task. Also, it should work well in different fabrics without any problem.…