Binny is a purveyor of quality women's clothing based out of Australia. They are known for their attractive print and colour apparel for active women and professional women as well.
Founded in Bondi Australia, Binny is now located in Barwon heads. It was started by two co founders – Australian and Brazilian and their resident CEO, a dog.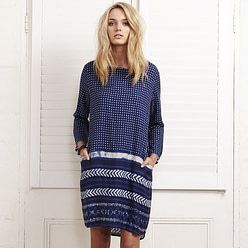 Their current stylist is Fifi from the Fifi report. FiFi met the founders of Binny through the location of their office in Sydney Australia. FiFi incorporates touches of monochrome and minimalism into her clothing, a nice complement to Binny's famous colour and prints.
If you want to buy Binny Clothing, you can visit and independent boutique in Australia. These boutiques are among the best sellers of quality women's apparel, and each store carries their own selection tailored to their individual store. The boutiques carrying Binny range from Airlie Beach to Adelaide. To find the store that is closest to you, you can simply send Binny online an email with your postcode, and they will tell you who is located closest to you.
Binny sells jackets, pants, knitwear, skirts and tops. The clothing is suitable for fashionable women who want to look stylish, at their jobs or while they are on the go. If you would like to find out more about the company, they also have Facebook and Pinterest pages.
Their AW15 campaign which was their winter collection was inspired by the beauty of winter. The founders of Binny spend a month during winter on a farm. Taking in the scenic sites of winter, enjoying warm soup and caring for the land has inspired their lively collection of prints, colour and monochrome and stripes.
You can buy Binny Clothing online if you would rather do your shopping on the internet as opposed to in an independent boutique. The online store features a range of different styles and looks, from pants to jackets to tops and skirts. You can also visit the page to find out more about the founders' philosophy on what makes a great page. The clothes are flattering and cutting edge, and would be a nice complement to any fashionable woman's clothes closet. If you just buy pants or a top, Binny makes designs that complement the other pieces of apparel that you are wearing. The sophisticated style make Binny clothing a nice choice for mixing and matching. Check out Binny online, or at your favorite independent boutique.…