The Marathon divers watch range is well known for providing high quality diving watches. Merging function with style. These specialist diving watches are designed to meet the standards required for a search and rescue diver, SAR standards.
Over one hundred years ago a small watchmaking business was founded under the name Weinsturm Watch. It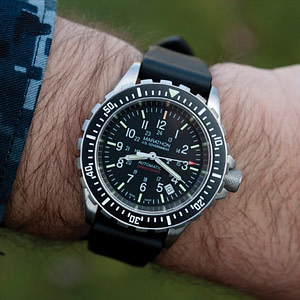 starting out as a small family run business in Montreal, Canada in 1904. In 1939, it was to be renamed the Marathon Watch, the company we know today as a provider of fine watches. From then onwards the company developed from strength to strengtheven manufacturing time pieces for the Allied Forces in the Second World War. Marathon has become a world leader in watchmaking with a proud history and a reputation for excellence.
There are many options to choose from in the Divers range, to suit any needs or price range. The traditional Drivers Automatic is a popular choice, priced at $1000. Water resistant down to 30 ATM (300 meters underwater)and visible even in low light this is handy, versatile watch that can survive even the most extreme conditions. For a little less money, you could get the Diver Quartz, which comes in two size regular/large and a smaller medium size, priced respectively at $760 and $495. Like the automatic these watches are water resistant up to 30 ATM, visible at low light and designed to the same SAR standards. The main differences are superficial, and the Quartz, in both sizes, offers a cheaper alternative to the Automatic, while still ensuring you get the same high quality. Both the Automatic and the Quartz are the highest quality Swiss-made in La Chaux de Fonds.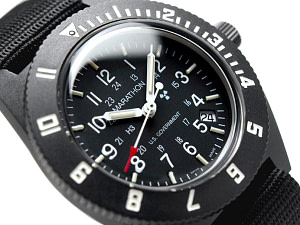 If you looking for a top of the range all-purpose watch, look no further than the Marathon Chronograph Pilot. Priced at a staggering $3,200, over three times the cost of the Automatic, but is it worth it? Along with all the usual features of a Diving watch this one is also designed to be used by pilots and aircraft staff, making it up to CSAR standards. These extra features, such as chronograph timing capacities, make it a more adaptable watch for land, sea and air.
Other watches from the diving range include the Jumbo divers LPG which is similar to the automatic, but as the name suggests a larger heftier model. As a new feature this watch has an end of life display to give you fair warning when the battery needs replaced.
So for all you divers, pilots and adventures, Marathon Divers Watches offer high quality watches that can survive underwater, in the mountains, desert or sky completely unscathed, thanks to their scratch resistant faces made from synthetic sapphire.…