There are five major places you can purchase designer prom dresses. Such places include boutique, online, departmental store, catalog, or made on order. Every place has its advantages and disadvantages. Thus, choosing the best place to buy a prom dress depends on your budget, what you are looking for, and service level. Dress Therapy is one of the best online stores you can get the best prom gowns. It is advisable to allow plenty of time to buy the dress. You should never leave it till late as you may run risks of not having adequate time to make alterations.
Places to buy
Boutique
This is one of the popular choices for most people. The st
aff that works in these areas are quite knowledgeable about gowns and can offer you some advice on the type of dress that compliments your figure. Although they will not have every dress in their collection, you will get feel for general quality and style of the designer's garments. The majority of the boutiques have websites. It is a good idea to look at their websites and even order from them.
The primary advantage of buying a prom dress from a boutique is that you get an opportunity to try it out. Also, boutiques have accessories, which you can as well try. Sales people are quite knowledgeable. You can do any alterations right away.
One of the disadvantages of these dresses is that not all are available in the store. The majority of the designers have boutiques and do not release the entire collection they have.
Online
Purchasing designer a prom dress is quite popular. This is attributed to the convenience it provides many people. There is a vast choice of each size and style of gown. It is very convenient as you can know what is in fa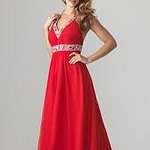 shion for the particular season. As stated above, authorized dealers and boutiques have websites where you can purchase with confidence. You will get information about every dress, colors available, what it is made from, and comprehensive delivery schedule. Moreover, each site has a size chart. This is to ensure you purchase what fits you most. Usually, some have a list of the recommended accessories for every dress.
The only disadvantage is that although pictures are of amazing quality, there are no substitutes to see something for real or just trying them on. Whatever looks great on the model, may not be flattering when you put it on.…