Choosing a shaving cream does not need to be a complicated affair. This is because there are many options for body and facial hair removal.
Benefits
Hydration and nourishment
These creams are formulated to lubricate and nourish the skin with hair to soften them. This makes it quite easy for shaving razor to cut smoothly. Besides, you will avoid razor burns. It also ensures your skin remains hydrated even after shaving.
Protection
Perfect shaving is accomplished by ensuring that you use a good shaving cream that suits your needs. The best shaving cream for men facilitates a smooth shave and offers adequate protection to your skin. You should note that good shaving needs effort and time. Thus, you should not rush the processes. You need to take time and protect your face.
It is a fact that shaving products offer a smooth, close shave, which is both accurate and gentle. Because of its consistency, the gels tend to stick better as compared to soap suds. Think of a man trying to shave using just water and soap. The results are disastrous and painful.
Some shaving creams contain fragrances and excellent moisturizing properties. When you use these types of creams, you get a softer skin. Other products have antioxidants and nutrients.
Shaving process
You should start by preparing your face with a good facial cleanser. These keep your face soft and clean. You will allow facial cleanser to settle on the skin for some hours. After you finish cleansing, apply the shaving cream. Leave it for some time as you comb the hair gently.
You also have an option of using a brush or fingers to apply the cream. Always, use a brush as it is the best option. This ensures that shaving cream penetrates your hair easily. You need to wet your brush bristles with the hot water before applying the cream. Circular motion is necessary.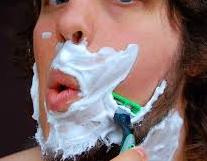 Shaving creams are ideal solutions for wet shaving. They can generate lather in a short period. Moreover, they keep your skin lubricated and protected. This leaves your skin hydrated and smooth.
Before you buy any shaving cream, ensure you check its ingredients. You also need to read reviews of the product. This will help you make a sound decision.…